Explore the history and romance of the ancient city of Dazaifu and uncover cultural ties to the name of the new Reiwa era.
A value ticket set combining train fare and umegaemochi voucher.
The Ticket Pack includes
・Nishitetsu Train Round Trip Ticket

Fukuoka (Tenjin) / Yakuin ⇔ Dazaifu

・Umegaemochi Exchange Coupon

One exchange coupon entitles you to two Umegaemochi

Dazaifu Coupon Special Discounts

・Homotsuden (Dazaifu Tenmangu Shrine) Included in group rate
・Kanko Historical Museum (Dazaifu Tenmangu Shrine) Included in group rate
・Kanzeonji/Hozo (repository) Included in group rate
・Dazaifu Amusement Park Admission Fee ¥100 Off
・Dazaifu Station Bicycle Rental ¥100 Off
・Yuzupremium Japan Dazaifu shop Bonus Voucher
・Mine (Hakata shop) One-day kimono rental ¥800 Off
Stroll through Dazaifu with a coupon for Umegaemochi
and the top sightseeing spots!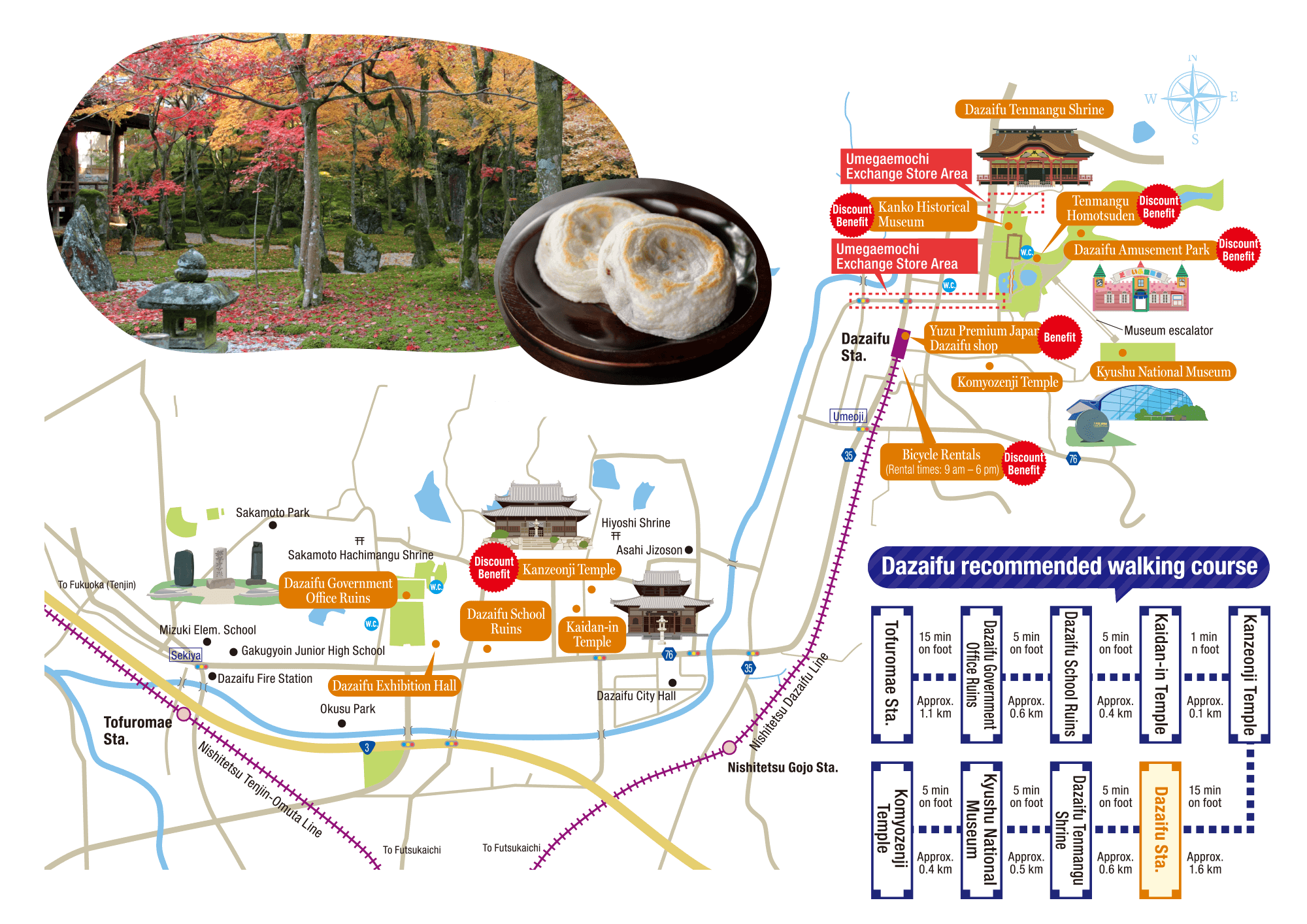 Umegaemochi exchange store

●

Oishi chaya
TEL 092-922-4045

●

Furo sakaeya
TEL 092-923-1766

●

Matsushima chaten
TEL 092-922-4006

●

Furo shogetsu honten
TEL 092-922-4140

●

Nakagami chaya
TEL 092-922-4108

●

Oyamada chaten
TEL 092-922-4175

●

Shoseikan
TEL 092-922-4068

●

Tobiumedo
TEL 092-922-6751

●

Takenoya
TEL 092-923-0043

●

Uguisu chaya
TEL 092-922-4120

●

Taishokan
TEL 092-922-5112
●

Terunoe
TEL 092-922-4010

●

Teradaya
TEL 092-922-4064

●

Midoriya
TEL 092-922-4161

●

Kanoya
TEL 092-922-5410

●

Nakamuraya
TEL 092-922-4328

●

Amagiya
TEL 092-922-4012

●

Sabo Kikuchi
TEL 092-923-3792

●

Matsuda shoten
TEL 092-922-4179

●

Kasanoya
TEL 092-922-1010

●

Onochikushido
TEL 092-922-4210

●

Sakadoya
TEL 092-922-5992
●

Kasanoya
TEL 092-922-5582

●

Tenmanya
TEL 092-922-4173

●

Kakuda shoten
TEL 092-922-4059

●

Miyake shoten
TEL 092-922-4383

●

Yasutake
TEL 092-922-5079

●

Matsuo shoten
TEL 092-922-4261

●

Matsuya
TEL 092-922-6125

●

Yorozuya
TEL 092-922-4155

●

Baba shoten
TEL 092-922-4171
Photograph provided by Dazaifu City

Dazaifu Government Office Ruins

Dazaifu was a base for cultural exchange with East Asia, referred to in the "Manyoshu" as "the distant capital".
Today these ruins are part of Shiseki Park, where you can view their impressive foundations.
◎ 15 min walk from Tofuromae Station

Photograph provided by Koto Dazaifu Preservation Association

Dazaifu Exhibition Hall

This facility preserves and exhibits artifacts recovered during archaeological excavations of part of the moat at the Dazaifu historic site.
It also uses miniature models and documents To explain the history of Dazaifu.
◎ Opening hours: 9 am - 4:30 pm
◎ Closed: Mon (on the following day if a public holiday), Year-end/New Year holidays
◎ Contact: 092-922-7811
* Admission fee will be required from July, 2019


Photograph provided by Kanzeonji

Kanzeonji/Hozo (repository)

The temple has the oldest temple bell in Japan, and even appears in "The Tale of Genji".
Its treasure house displays 16 Buddhist statues from the Heian through Kamakura periods. The centerpiece is an approx. 5-meter tall statue of Kannon.
◎ Opening hours: 9 am - 5 pm (entrance until 4:30 pm) 
◎ Contact: 092-922-1811

Photograph provided by Dazaifu Tenmangu

Kanko Historical Museum

Located on the grounds of Dazaifu Tenmangu, this facility features a diorama that uses Hakata dolls to reenact the life of Sugawara no Michizane.
It also exhibits Tenjin dolls, toys and votive pictures from around Japan.
◎ Opening hours: 9 am - 4:30 pm (entrance until 4 pm)
◎ Closed: Tue and Wed

Photograph provided by Dazaifu City

Komyozenji Temple

A Buddhist temple founded during the Kamakura period. The beautiful moss of its karesansui gardens has inspired the nickname Kokedera or "mossy temple".
In spring they blossom with rhododendron, their foliage a myriad of colors in fall.
◎ Opening Hours: Noon to around 4:30 pm (varies depending on day)

Photograph provided by Kyushu National Museum

Kyushu National Museum

The museum holds various special exhibits intended to help understand the formation of Japanese culture from the perspective of Asian history.
◎ Opening hours: 9:30 am - 5 pm (entrance until 4:30 pm)
◎ Closed: Mon (on the following day if a public holiday)
◎ Contact: 050-5542-8600
Stations Where Ticket Packs are Sold, and Prices
| Station | Adult | Child |
| --- | --- | --- |
| Fukuoka (Tenjin)・Yakuin | ¥1,000 | ¥630 |
[Period of validity]
One month, including the day of purchase
[Validity after initial use]
Two days, including the first day of use
[Stopovers]
Stopovers are not permitted. However, you can freely board and get off the train at Tofuro-mae, Nishitetsu Futsukaichi, Nishitetsu Gojo and Dazaifu stations.
Important Notes
Using Nishitetsu Trains
■ The Dazaifu Stroll Ticket Pack combines Nishitetsu train round trip tickets and umegaemochi exchange coupon.
■ Please present your ticket to the station representative at the ticket gate. Cannot be used at the automatic ticket gate.
■ This ticket cannot be used for stopovers. However, stopovers are limited to Tofuro-Mae, Futsukaichi and Gojo stations.
■ Ticket is valid for 2 days (including the day you begin using it). However, please be aware that it will become invalid once you return to the station at which you purchased it, or if you pass through the ticket gates at any station other than Dazaifu, Tofuro-Mae, Futsukaichi or Gojo.
Using the umegaemochi voucher
■ Can be used at shops along the approach to Dazaifu Tenmangu. See here for details about participating shops. Please be aware that you may need to wait in line when the shop is busy.
Using Coupons
■ Present the Dazaifu Coupon at any of the listed facilities to receive a discount. We recommend that you check in advance as some facilities may close early or be temporarily closed.