Spend a healing day in an urban oasis surrounded by green that both children and adults can enjoy.
A value ticket set combining train fare, Fukuoka Zoo and Botanical Garden admission and Mister Donut coupon.
The Ticket Pack includes
・Nishitetsu Train Round-trip Ticket

Between station of purchase and Yakuin Station

・Nishitetsu Bus Round-trip Ticket

Between "Yakuin-ekimae" and "Dobutsuen-mae" bus stop

・Fukuoka Zoo and Botanical Garden Admission Ticket

・Mister Donut Discount Coupon

One 30% discount coupon for a purchase of donuts will be presented.

Fukuoka Zoo and Botanical Garden Facility Guide
ZooLab, the zoo information center

Features numerous exhibits designed to teach you more about the animals and make your visit to the zoo even more fun! Includes an Animal Desk where zookeepers answer questions about animals and a Library Corner with books about animals. They also host workshops, lectures and exhibitions related to animals.

Green Lab

Shares information about greenery through various exhibitions, horticultural lectures, a book corner with books about plants and a Green Help Desk where green consultants answer questions about raising plants.
Café Rassembler

Enjoy the locally sourced menu with dishes based on Fukuoka ingredients.
TEL.092-791-4878

Gift Shop Petit Monde

Sells original Fukuoka City Zoo goods, souvenirs and cute stuffed animals.
TEL.092-406-9888

Children's Zoo Cafeteria

Offers delicious fresh meals as well as takeout items that you can eat on the go.
TEL.070-6551-9967

Observation Deck Cafe

A cafe on the 1st floor of the botanical garden observatory. Enjoy tea or food accompanied by a superb view.
TEL.070-5594-6108

Fukuoka Flower "Hanakobo" (Garden Center)

In addition to seasonal plants and gardening tools, they sell box lunches, sweets and sundries.
TEL.092-521-7755

Fukuoka Zoo and Botanical Garden

Open hours

9:00 - 17:00 (last admissions at 4:30 pm)

Closed

Mondays (on the following day if a public holiday) * Opens on the last Monday in March every year.
Year-end/New Year holidays (Dec 29 to Jan 1)

Inquiries

【General Information】TEL.092-531-1968

Store information of Mister Donut "Nishitetsu Yakuin Branch"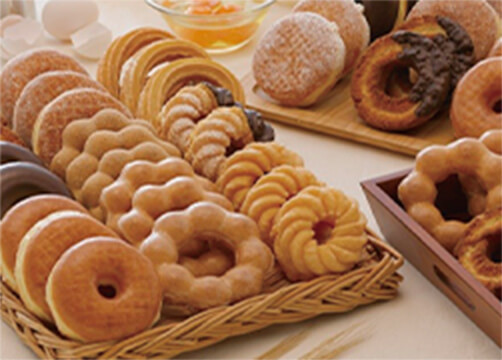 Business Hours

[Weekdays] 7:00 – 23:00
[Weekends & Holidays] 8:00 – 22:00

Location

Nishitetsu Yakuin Station Bldg. 1F, 2-6-1 Watanabe-dori, Chuo-ku, Fukuoka City

Inquiries

TEL.092-741-2851
Stations Where Ticket Packs are Sold, and Prices
Station
Adult
High
Student
Junior
High
Student
Child
Fukuoka (Tenjin),Hirao,Takamiya
¥1,100
¥860
¥620
¥320
Ohashi,Ijiri
¥1,160
¥920
¥680
¥360
Zasshonokuma,Kasugabaru
¥1,220
¥980
¥740
¥400
Shirakibaru,Shimoori,Tofuro-mae
¥1,280
¥1,040
¥800
¥420
Futsukaichi,Gojo,Dazaifu,Murasaki,Asakura Gaido
¥1,360
¥1,120
¥880
¥460
Sakuradai,Chikushi
¥1,440
¥1,200
¥960
¥500
Tsuko,Mikunigaoka,Mitsusawa
¥1,520
¥1,280
¥1,040
¥540
Oho,Ogori,Hatama
¥1,600
¥1,360
¥1,120
¥580
Miyanojin
¥1,660
¥1,420
¥1,180
¥620
Kushiwara,Kurume,Hanabatake,Shikenjo-mae,Tsubuku
¥1,760
¥1,520
¥1,280
¥660
Yasutake,Daizenji,Kitano
¥1,820
¥1,580
¥1,340
¥680
Amagi
¥1,980
¥1,740
¥1,500
¥760
Yanagawa
¥2,080
¥1,840
¥1,600
¥820
Shinsakae-machi,Omuta
¥2,320
¥2,080
¥1,840
¥940
[Stations Where Ticket Packs are Sold]
All stations on the Nishitetsu Tenjin-Omuta Line, Dazaifu Line, and Amagi Line,  excluding Fukuoka (Tenjin) Station and no staffs stations.
[Period of Validity]
Two days including the day of purchase.
Important Notes
Using Nishitetsu Trains
■This is a discounted round-trip ticket from the ticket-selling station to Yakuin Station. If you travel to a station outside the zone (including stations with the same sales price), a separate fare is required.
Using Nishitetsu Bus
Approx. 10 min from "Yakuin Eki-mae" bus stop by Bus line 58 (Sat, Sun and holidays: buses run every 5-20 min)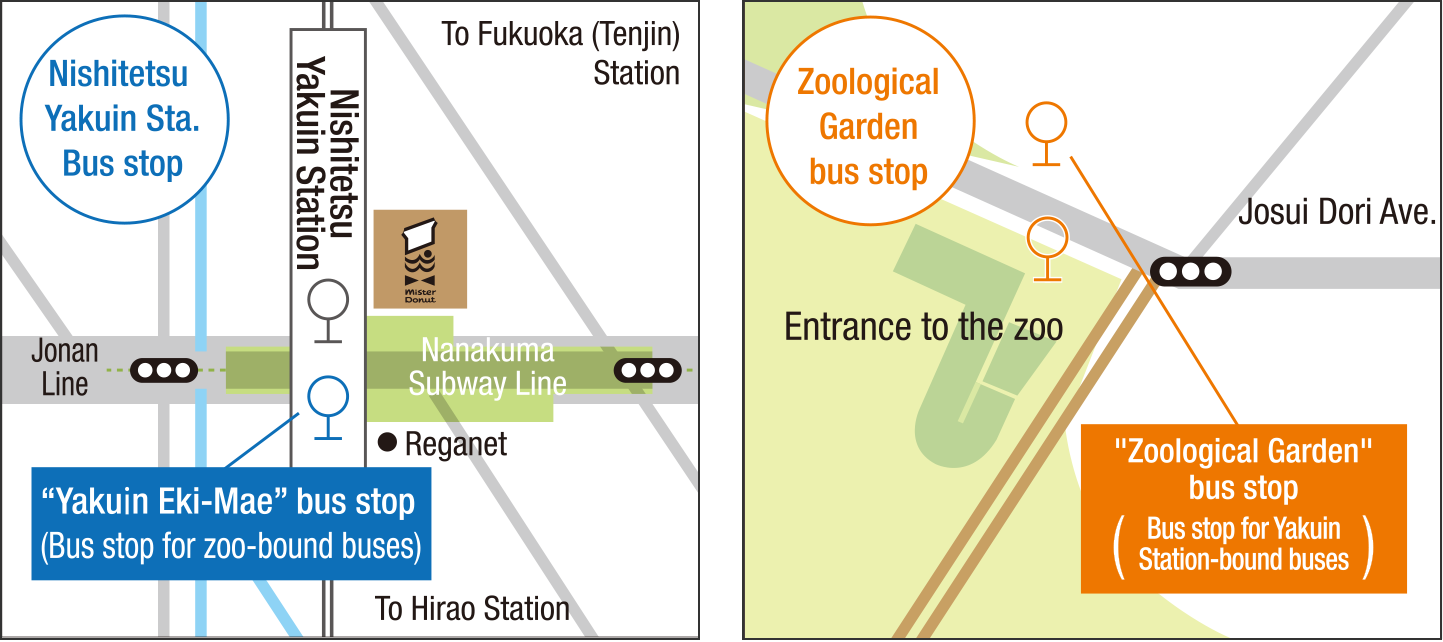 How to Use
■Nishitetsu Train Round-trip Ticket:Show your ticket to the train station staff to pass the gate.
■Nishitetsu Bus Round-trip Ticket:Leave ticket and put it in the fare collection box when getting off the bus.
■Fukuoka City Zoological Garden Admission Ticket:Show your ticket at the Entrance Gate.
Notes
■As admission to Fukuoka City Zoological Garden is free of charge for junior high school students and under, the admission ticket is not included in the ticket pack for customers of junior high students and under.
A presentation of student ID is required for junior high and high school students when purchasing a ticket.
■The ticket pack will not be sold if Fukuoka City Zoological Garden is closed or open free of charge.